Communities across the globe are brainstorming to find out newer and better ways of commuting. Blame it on the traffic or the increasing pollution – but Gen Y is actually becoming smarter. And what's coming up as a growing trend is, "carpooling".
Here's taking a look at why the trend is catching up!
1. Money Money my Honey
The list begins with the most obvious and logical reason. When you carpool, you share travelling as well as fuel costs on the way. End the month with a loaded wallet and a smiling bank account, because you saved some greens by going green. *Smiles*
2. The Green League
Here's a shout-out to all those who ever fantasized about being a super-hero, even if it is only for a day. Join the International Green Brigade and contribute towards procuring our precious environment. Low emissions, more greenery, better life. Who's up for it?
3. Be a Social Bee
Let bees be our social inspiration because, why not! While you're saving the world and some money, it is time to become the social bee you were back in school. Share a ride, meet new people and make new friends. After all sharing a few experiences is only going to reap you lifelong benefits – personally and professionally!
4. Don't be a Slave Driver
It is proven that driving is not everybody's cup of tea. Most people don't even like driving – they in fact wish to be a passenger and enjoy the view. Be that passenger if you are not much into peddle-pushing. Carpooling lets you have a seat and reach your place without much of the clutch-break activity. Phew!
5. No Stress of Organizing
It's a long weekend and you wish to visit your favorite place. You have to go through loads of details – online travel reservations, flight availability, waiting lists etc. etc. Let's make travelling in the city tad easier. Using sRide carpooling app, all you need to do is choose your pick and drop. Hop on and hop off, without any terms and conditions applied!
6. No EMIs
Owning a car is always a stress. Getting a loan passed, paying monthly installments and maintaining your car on an everyday basis, is a cumbersome job. Carpooling gives you the comfort of travelling by a private vehicle hassle free!
7. No Freaky Public Transport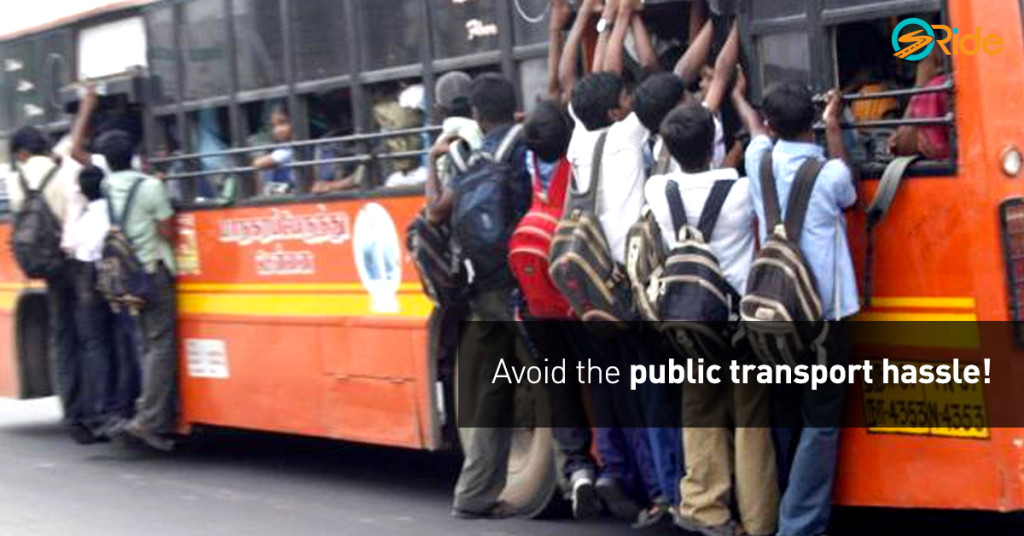 Public transport is cheap, but there is a flip-side. It can be freakishly stressful at times. Carpooling relieves you of the long queues, waits, over-crowded and stinky compartments and infection-prone seats.
8. No "High-Blood Pressure" Jams
Long and serpentine traffic jams are infamous. And so are the levels of frustration they generate. When more people carpool, there is lesser traffic on the roads – and you get to drive on an almost empty road without cursing a single soul. Let's give that heart a break?  
9. Play Safe
Since safety is considered a hassle while carpooling, we at sRide go the extra mile to keep you safe and sound. We verify each of our users before they can share a ride. No more trying to Google a person's name for background checks!
10. Flaunt a different Ride every time
Let's face it, no one really changes their vehicle every day. Not even on an yearly basis! But when you carpool, you get to ride a different model every time – even though it is not yours, you can still have the privilege of stepping out from swanky wheels!
11. Share the "economic" burden
Let's talk some heavy stuff before we hop on to our next ride. When you start carpooling, you become an active member of a community that is consistently trying to their part in making the world a better place to live. It says you're smart enough to understand the logic and the numbers behind it – you share the economic burden, and keep inflation in control. Don't believe us? The logic is derivative. Try some math!
Need more reasons to carpool? Then head over to our official Facebook page and join us in all the carpooling fun!