There is a singular cause of concern while we think of carpooling as an effective tool of commuting- something that makes people hesitant to take the leap, and share that ride to work. How safe is the ride? What if something bad happens? Can you really trust a stranger? Wouldn't you rather ride with someone you know? If you've asked yourself even one of these questions, then your apprehensions maybe valid.
But sRide takes care of that, and much more. Our remarkably unique features only ensure that your safety, as a driver and as a rider is of key importance. sRide is a trusted carpooling app for your community. With sRide, you ride with people in your community – your friends, coworkers in same area, people who live in your area. People LIKE you going your way , How do we make sure of that?
Screening: All our users are verified on registration through phone, email and Facebook; so that means no more random hitchhikers!
Reviewing: Review the person you've shared your ride with, and rate them on the experience you've shared. This feature builds a social feedback for others to see in the community
Profiles: See the profile details- picture, membership type (bronze, gold, silver), how many previous rides done through sRide, and reviews of the people you'll be travelling with. All our rides are booked only once you confirm a request.
Yes! This is so much better than slugging with strangers near George Washington Bridge in NY or 14th street in Washington DC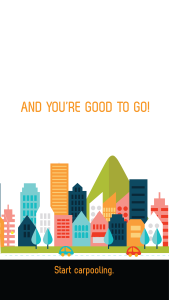 As we've said before, sRide revolutionises the world of Carpooling – making it smarter, easier, and most of all, safer. After all, what is the single most important mission we hope to achieve apart from saving your money and time?
Meeting new people. Making a friend. Discovering new perspectives. And in the end, that's all that matters.
So Try carpool today , Download the iPhone or Android App Now