It's a big city, you work long hours, and travel back and forth to your work place, the whole setup is understandably hectic. The hectic life is taking a toll on many a life functions. Our health is compromised, we live in constant stress and on top of all, we are going backwards in our social evolution graph!
Yes, it is shocking, that we, the much advanced creed of human species; the modern humans of 21st century are in fact less social. There may be much reason to ponder over, as to why the society is becoming so disintegrated. The reasons are simple and are in front of our eyes, yet we turn a blind eye to them. We have complicated our lives so much, that social conventions went of the window somewhere in the middle of last decade, when smartphones and social media took the front seat.
Most of the urban youth is living the corporate life and is engrossed in the never ending travel which is involved with it. People are spending more time than ever on the roads, but not for recreation, but instead in long traffic jams. Amidst all this commotion, social life is non-existent, and we hardly communicate to individuals other than our colleagues and clients, and yes the exclusion list contains friends!
All of a sudden, in this socially fragile society, "Carpooling" is picking up pace with the youth. Yes, it is simple and it is viral, as more and more people are finding carpooling as a chance to enhance one's social circle. What's terrific about the idea is that people meet other people whose identity is verified and they can travel together to know each other and yet save fuel and save money!
Meet a Potential Friend
Yes, you meet people through carpooling apps who are travelling in a common direction. You travel together so it's obvious that you both talk and communicate with each other. It is very certain that the person you are meeting might be a potential friend. The world around us is filled with examples where two people met through some common activity; such as carpooling itself and became friend for life. Urban youth are taking strides on the social front by carpooling. They locate people who travel in the same direction and there begins a journey towards a new friendship.
Go Places of Common Interest
It's not unlikely, when people meet through carpooling, they might explore each other's interests, or in other cases, where people find new carpooling-buddies while going to a common place of interest. For instance, more and more enthusiasts who are travelling to the upcoming Airtel Hyderabad Marathon are looking for carpooling partners to reach the venue. This way, they would not only enjoy their common interest, but would also find a new friend for other upcoming events. Social butterfly theory proven!
---
The best part? We are actually going all out to award people who are carpooling to the Marathon!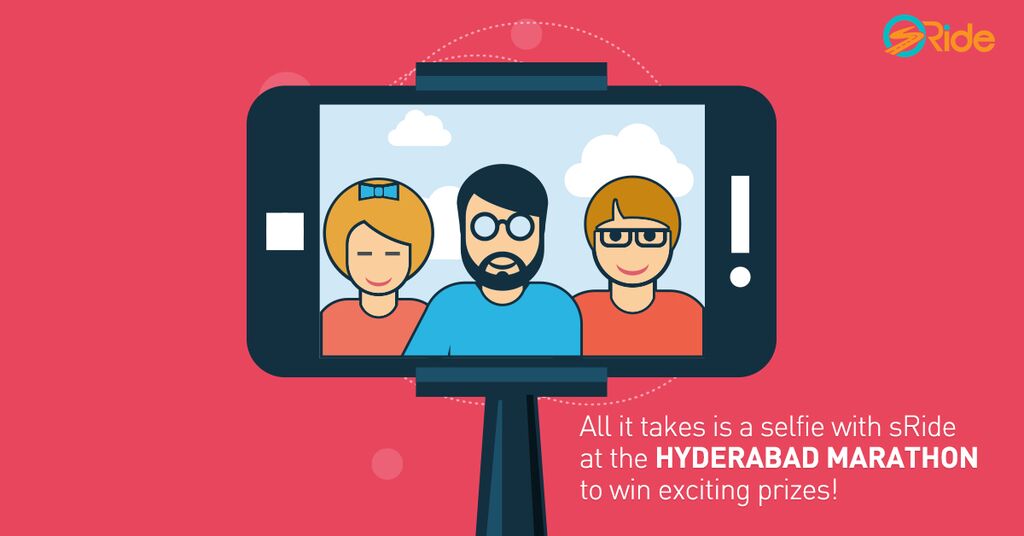 When are we going to be there? 
August 28, 29 – Hyderabad Marathon registration – booth #36
August 30 – Parking, Hyderabad Marathon
What gets you prizes? 
Meet us at the venue
Take a selfie with us
Tag us and post it on Facebook
Get instant McDonald's coupons! 
For more information, follow us on Facebook!
---
Work Anxiety: What??
It is common that our long working hours fill us with anxiety, which we take back to our homes and family lives. When we are carpooling with a buddy, we tend to involve in discussions and healthy conversations. We speak out and we listen, sharing plights and work issues, while we travel back home. It's a two-way healing process which helps us get over from work relate stress and target related pressure. This social connection with a carpooling buddy is soothing and relaxing, while we learn to live stress-free and blissfully. Only thing you take home is a smile!
A Common Cause
Yes, another role in disguise with the carpooling activity is the promotion of common goal which is promoted among multitude of individuals. Every person is aware about the cause of saving environment and saving fuel money. Once this emotion is clubbed together, it takes a shape of a huge movement which impacts millions of individuals. Carpooling individuals are collectively forming an army of individuals who wish to bring a change in our lifestyle. They are the torch-bearers in the movement for a better and greener tomorrow; the one which has wider roads and lesser pollution. It is in fact a huge social movement; which is growing rapidly.
On the whole, carpooling is something which the urban and modern society needs dearly. Despite the benefits to environment, carpooling is also filling a huge void in lives of thousands of people; who are now more social and more outgoing. So don't just restrict catching up with friends on weekends, meet new ones through carpooling!