General FAQ
What is sRide?

sRide is a trusted social carpooling app that helps people to carpool by connecting people like you going your way. It uses a real-time matching process to help match people going in the same direction. Some of these users will be car owners (can give ride to other people to share cost) and some of these user will need ride.

What is carpooling?

Carpooling is when two or more people share a ride together. It allows individuals to reduce the costs and alleviate associated problems of congestion and emissions.

When can I use sRide to carpool?

· Commuting to work
· Travel to hometown on weekend
· Drop or pick kids to school or after school activities.
· Get to movies, shopping, events and conferences with friends
What are benefits of carpooling?

Benefits of carpooling for you
• Save money for gas, tolls and parking
• Takes cars off the road and reduces emissions, traffic and parking issues
• Get college kids home for school breaks
• Find a ride if you don't have a car or help a friend with a ride
• Social networking while you travel. Make a friend
• Commute with friends and feel the difference in commute stress. Stay healthy with carpooling
How do I tell/refer my friends / colleagues about sRide Carpool?
You can use sRide's in-app referral system and refer carpool to your friends using Whatsapp, SMS & email. You also get free credits everytime a friend referred by you registers using your personal PROMO Code. These credits have to be used in the app.For every referral that gets converted to a confirmed user, we will credit you with special credit amount in your sRide Account. The terms and duration of this will vary from time to time. These credits can be used to complete your rides. These credits cannot be redeemed in return for cash or equivalent.
How can i use the referral money?
Using the referral money (present in your sRide Referral account) to pay for your rides is only applicable in India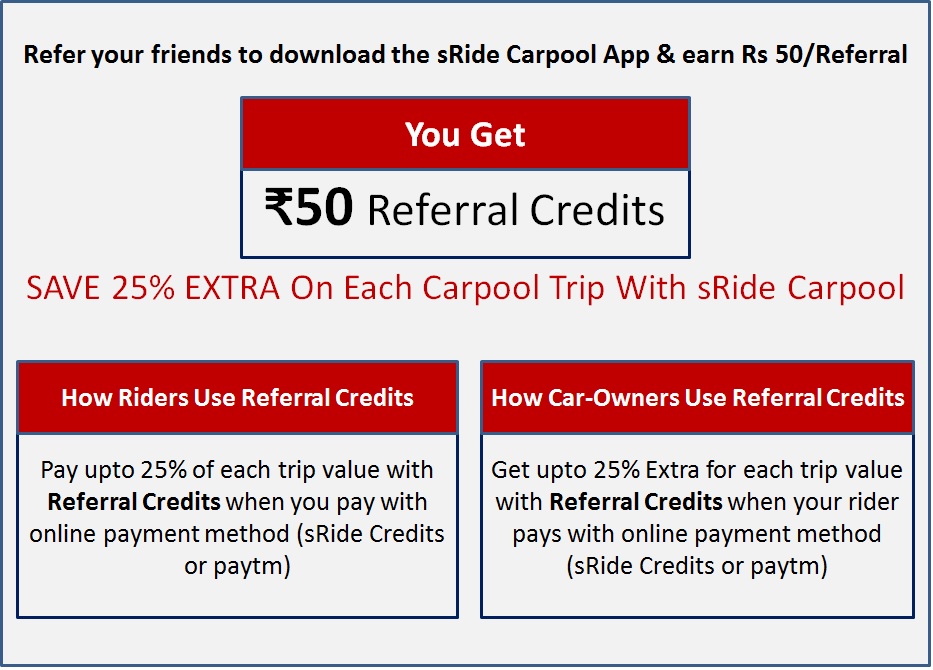 RIDERS:
A rider can use 25% of the ride amount or Rs 25 which ever is less for each trip from the referral amount for each trip.
The referral amount can only be used for online payment done by rider; Either through sRide Credit or payTM.
Eg: If a trip value is Rs 60, then the rider can pay upto Rs 15 from Referral Account [25% of ride value]
If the trip value is Rs 500, then the rider can pay Rs 25 from Referral Account [Rs 25 max allowed value]
CAR OWNERS:
A car-owner can convert 25% of the ride amount or Rs 25 which ever is less for each trip from the referral account to Earned Account for each trip. This transfer is applicable only for payments done via online payment mechanism ie payTM or sRide Credit.
Eg: If a trip value is Rs 60, then the car owner can transfer upto Rs 15 from Referral Account to Earned Account [25% of ride value]
If the trip value is Rs 500, then the car owner can transfer upto Rs 25 from Referral Account to Earned Account [Rs 25 max allowed value]
Will my Referral Credits be there forever?
Referral Credits have an expiry of 2 month active date so if you are active on sRide App, your Referral Credits may never expire. But we may introduce various promotional schemes and Referral Credits credited through them maybe expirable. But don't worry, we will convey you accordingly 🙂
I had Referral Credits in my account, but it now my account shows zero balance. Why?
sRide Carpool has all rights to freeze your account if any misuse is observed from your end. So, be nice!! 🙂
sRide App FAQ
Do I need a car to carpool with sRide?

No. Many people are happy to offer rides in exchange for sharing the costs of the ride.
How do I start using sRide?

Simply download FREE sRide app, verify with your phone number and post your rides. It takes only 30 seconds to post a ride. You will find a match or somebody will find you.
How safe is carpooling?

The safety of our members is our top priority, and we have made our application very secure to ensure that aspect of carpooling. All our users are verified for their identity through phone and work email. User review is mandatory at the end of each ride so each user gets more and more review comments as they complete their rides. The review ratings received by past co-riders help other people to select these users based on the average review ratings they have got.
Should I ride with a person whose company name is not 'verified' or not mentioned ?
A user who hasn't verified his company name wont have any company name added to his profile. It is still possible that you know the user personally and may choose to ride with them based on his good review ratings. We suggest you verify the user (who doesn't have a company name) properly before you ride with them.
What are the chances of finding a perfect match for my ride?
We use our algorithm to find you matches. The more users there are the higher the chances of getting a match. So make sure you tell your friends about this application, and get them to signup! We also have a "referral" promotion scheme.
Can I use the same account to act as a Car Owner and as a rider?

Yes. When you use the sRide app, you have the option of giving a ride [as a carowner] or take a ride [as a rider] on any given day. This is independent of the default role [car owner/rider] that you have selected in your profile.
Can I make requests or offers for trips in advance?

Yes, you can request or offer trips in the near term or in the future. sRide encourages users to plan ahead and enter their requests as soon as possible, as it increases the chance of finding a match.
How old do I have to be to have a SRide account?

You should be 18 years or older to use sRide.
Can I change my Pick Up Location after submitting a sRide request?

Car Owner will pick you up from start location. If you need to change, please connect with the user through chat/ call / SMS to share that you wish to change the location and its up to them if they agree. The app will not reflect the changes and payment will be based on start location.
You can also cancel the trip and add a new one.

I found a match and send a request but did not get a reply?

You will have to wait for the Car Owner who made the sRide offer to accept your message. You can also call/email to the co-rider.
I searched but no rides were available? What should I do

We suggest you to set your recurring ride preference and rides will be automatically generated for your for the next 3 days. You will surely find a ride in the next few days
What if my ride co-rider does not show up?

You are expected to wait for 5 minutes or more at least post the indicated departure place. Please chat, call or SMS your co-rider. We also encourage co-riders to respect each other in case of delays and inform each other.
We highly recommend you to cancel your trip if you do not wish to take the ride as it makes everyone informed and they can book another alternate ride
How to use the sRide Carpool app
How do I post a ride?
To post a single ride, you may click on the + button and add a single trip. To add a recurring ride, you can add your Home & Office location along with your morning and evening preferred trip time. The app will automatically post trip for your daily (Monday-Friday) if you set a recurring trip. You may edit your single trip or recurring trip anytime. For more details, check "How to edit the trips?"
How do I edit a ride?
To edit a trip, you may go to My Trips tabs and click on the edit icon.
How do I check my matches?
Once you post a trip, you'll instantly get your matches on the app. If there are no current matches, we will save your trip preferences and send you a match notification as soon as there is a match
You may also check matches under "Rides" Section –> "Matches".
You may also search for matches using the "Search" option on the top of the app
How do I send a request or edit my requests?
Once you get matches, you may send request to 1 or more matches. Who ever will ACCEPT your request first will be the person with whom your ride will be booked. All the other requests for the same trip will automatically expire.
You may also cancel requests under "Request" section.
When you get a request from your co-rider, you may ACCEPT or DECLINE the request based on your preference
How do I cancel my ride?
Go to my rides, please click on edit ride and select cancel option to cancel your ride
How do I call/chat with my co-rider or connect to confirm the pick-up time/location?
You may use the in-app chat option by click on the "Contact" option on co-rider's profile. You may also use the "Call" option to call the co-rider to discuss and mutually agree on location/time of the pick-up / drop
How can I do payment for my completed ride?
You may click on the notification messages received for the ride. It will take you to payment screen and you will be able to choose your preferred payment mode and will be able to make the payment for the ride.
How can I select the route that I wish to take instead of what the sRide app is suggesting ?
We will be bringing a route feature soon where user can select between multiple routes. Regarding the route, sRide app currently provide the matches based on the route suggested by Google Maps
Recurring Ride
What is Recurring Ride?

Recurring Ride is an advanced feature of sRide that allows you to post your daily Home-Office ride once & it auto-generates the same ride for your everyday. The ride posted by you is generated at 9:00 PM for the next day & the user does not have to post ride everyday
How do I edit/delete my existing Recurring Ride?

You can edit/delete your existing recurring ride from "Ride Setting" page.
Can I add a single ride after posting a recurring ride?

Yes, you can post a single trip ride from POST RIDE page.
I have a recurring ride set but I am not travelling on 1 particular day. Can I cancel just 1 (or few rides) without cancelling my recurring ride?

Yes, you can cancel 1 particular trip from "MyTrips" page. If you are out of town for few days, you can stop your recurring ride & start it again when you are back. That way, you will not get notification every day.
You can set off recurring from Ride Settings. Steps: Go to Ride Settings –> Define route –> Clear tick to the option Mon-Fri. Your rides will not be generated on daily basis. Whenever you wish to start, you can set it again
Payment
Why I have to pay for a ride?

The sRide system charges the rider a certain ride fee to cover fuel costs that is passed onto the co-rider after deducting a Platform fee. If your corider does not want a fee, they can send an email to sRide at support@sride.co and we can revert the charges.
You need to buy credits only for taking rides.
How does the payment work?

When a ride match is posted, the app will inform both the ride partners – Car Owner and the passenger the cost of the ride.
The amount of credit will be transferred from the riders account to the Car Owner's account net of the Platform fee charged by sRide for that ride. Riders must ensure that there is sufficient balance in their sRide accounts else buy the required credit to top up and maintain sufficient balance in their sRide account. If the account balance is insufficient, they will not be able to post a trip. The ride fee is determined in a manner so that the Car Owner does not make a profit from the sharing of the ride.
Why does sRide charge a Transaction Fee?

There are several costs that we incur in bringing this service to you. To ensure that we keep the app robust and upto global standards, we charge a small transaction fees to manage the app.
In case you are not going to do the ride, please cancel the ride before the time of the trip. Once the trip is completed and the amount is deducted, sRide support team will be able to revert the charges only after verifying with the co-rider on the validity of the trip.
sRide do not guarantee that trips charges can be reverted if the user connects with sRide support more than 3 days later from the trip date. sRide holds the discretion to not revert the charges deducted for the trip based on unavailability of confirmation from co-rider or number of reversals requested
How do I figure the ride fee?

This will be indicated when the ride is posted.
How do I redeem?

Car Owners can redeem the amount earned by them to paytm or bank account anytime they wish. The redeem option is under menu. You may raise a redeem request and the amount will be added transferred on the coming weekend.
Referral money has to be used in-app for completing rides. Referral money will not be redeemed to users.
I cant see redeem option?

Redeem option is only for Car Owners. If you have set your master sRide profile as rider, you will not be able to see redeem option. Please change your user type in Profile or write to support@sride.co
How does payment work?
In India, Payment for ride taken can be done by
1. sRide Credits in account. sRide Credits can be recharged using payTM or Debit/Credit Card
How do I use my sRide Credits?

If you have any sRide credits in your account, they will automatically be applied to your ride. After your credits are used up, you need to buy sRide credits via your paytm account. You can see your existing sRide credits on the Payment screen.
As a Car Owner, when do I get payment in my account once I have dropped the rider?

Once you have dropped the rider, you have to end the ride in the app. The moment, you end the ride amount will be added to your sRide account. If you forget to end the ride, the system will end the ride at 10:00 PM and money will be credited automatically
Where do I see my transaction history?

You may check your past transactions in the transaction history section under Menu.
Where do I see Offers or Promotions from sRide App?

You may check the Offers sections at the bottom of the main app screen for all the current offers.
How do I earn initial promotion amount?

Initial promotion amount is given as free sRide credits to try first ride.
How do I contact sRide's support team?

Please e-mail support@sride.co. You may also chat with "sRide Buddy" anytime to get answers for your queries. We are here to help and make carpooling easy for you on daily basis.