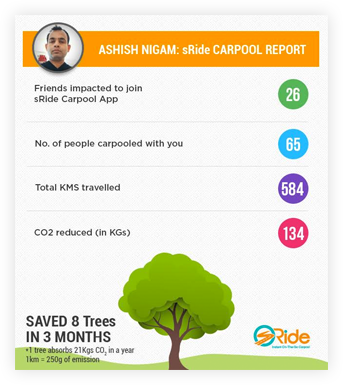 How many of us have planted even 1 tree in our life till date?
Ashish Nigam has saved 8 trees in less than 3 months.
Ashish Nigam resides in Pune & have been one of sRide's early adopters. Ashish heard about sRide via social media & decided to give sRide a try. He is a car owner and wanted to try out carpooling on a platform that made carpooling easy rather than making it a challenge. Anyways, Pune traffic was challenging enough for his daily commute. As it turned out to be, Ashish did his first few rides with different people and he loved the concept. Not only, he was making new friends but was also doing his bit in reducing traffic & helping the environment.
It is a common understanding that most of the people do carpooling for saving cost (financial benefit)
But it does not hold true for Ashish…
That is something what makes sRide so proud of Ashish Nigam. He has taken an initiative, he has been doing it for months & he does it with passion. Not to forget, he has saved 8 TREES till date.
Kudos to you Ashish!!!! sRide Carpool is proud of you.